Festive Lighting Year Round
String Lights, after the Holidays?
Typically, string lights are associated with Christmas time. During the holidays, it's a fun time to admire the lights around the neighborhood. Using string lights to border a roof, or wrap around trees and fences elevates homes to be bright, merry, and fun!
With Novolink's Smart Color-Changing Large C9 Bulb String Lights, you don't have to put away the lights at the end of the holidays. The large C9 bulbs are durable and are designed to withstand the elements, whether that be spring showers, summer heat, brisk autumn winds or the winter cold, Novolink's Smart Color-Changing Large C9 Bulb String Lights are sure to dazzle in any condition!
You can change the ambiance of your home no matter the season by customizing the color of the bulbs to your liking. There are so many ways to implement these lights into your daily life; they can be strung up in your backyard to provide a soft lighting for outdoor activities such as parties, backyard cookouts, or any special occasion. C9 bulbs can also be a fun way to illuminate dark places around the house and provide a bright, welcoming space for guests.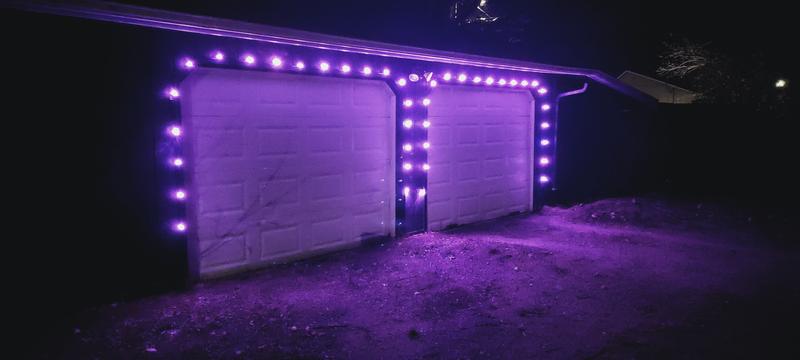 The Smart Color-Changing Large C9 Bulb String Light connects right to your smartphone through our free LS Holiday and Novolink LS apps. With a simple tap, you can choose from a selection of preset themes! Select the Halloween theme to welcome the ghosts and ghouls to your doorstep. Fall in love with the Valentines theme to set the mood for an intimate outdoor dinner. Celebrate Independence Day on the 4th of July with patriotic red, white, and blue. With 8 preset themes you will be prepared for any holiday!
If the preset themes are not to your liking, you can customize the individual bulbs to your preference. Customize your lights to any favorite color to fit a themed birthday party or to your favorite teams' colors for the Big Game! You can also select colors to show your support to a cause such as Ukraine, the fight against Cancer, and many more. With millions of color options you can't go wrong!
String lights that only stay up for a couple of months are a hassle to put up and take down. With Novolink's C9 Bulb String Lights you don't have to limit yourself to the end of the year festivities to use your string lights. Purchase these lights today on our website shopNovolink.com or at your local Home Depot. If you have any questions or need assistance in installation and use, you can contact our helpful Customer Service at 1-800-933-7188.